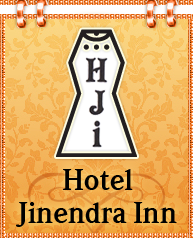 Hotel Jinendra Inn has been designed with the guest in mind. All the rooms have been furnished with period furniture, showcasing the skill and expertise of the Rajasthani artisan.

We have tried to create an atmosphere that makes you feel truly at home.

Check out our rooms in our picture gallery

Welcome to a unique experience in Jaipur.

Hotel Jinendra Inn - a classic heritage castle welcomes you to the world of traditional Rajasthani hospitality . Forget your worries in this beautiful and comfortable castle whose warm hospitality and splendor will linger in your minds forever.

Hotel Jinendra Inn is a classic style budget hotel in Jaipur with some of the most exclusive and Beautiful heritage interiors and  ambience in Jaipur.